fre:ac Developer Blog
| | |
| --- | --- |
| BonkEnc 1.1 development status | |
Written by Robert
Wednesday, 27 May 2009 20:22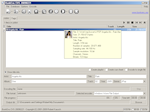 I released a new snapshot of the 1.1 development series a few weeks ago. It previews tons of new features that will be in BonkEnc v1.1.
Most visible to you will be the new tag editor. It is still very limited, but already allows to edit cover art and a lot of tagging fields that could not be accessed in previous versions. The tag editor will be improved in future snapshots to include an album mode and allow tag editing of files not loaded into the joblist.
The snapshot is the first to include native x86-64 support. Currently, only the FAAC, LAME and Ogg Vorbis codecs are supported on 64 bit systems, but others can be integrated as external codecs.
Speaking of codecs, support for the Speex format has been added, the external TAK encoder is included in the distribution and decoding of several basic audio formats (such as Microsoft Wave or Apple AIFF) is now done using a new libsndfile based decoder component.
The new snapshot also adds features mainly needed by professional users. The most notable is support for reading ISRC codes from CDs which is needed by radio stations ripping audio CDs for broadcast.
In addition, it greatly improves cover art and freedb support and fixes some ID3v2 tagging problems.