fre:ac Developer Blog
| | |
| --- | --- |
| BonkEnc for right-to-left script languages | |
Written by Robert
Monday, 14 September 2009 21:47
I recently spent some time fixing right-to-left script support in BonkEnc. It was a tough job, but fun to do and it's great to see everything working in the end.
Support for right-to-left script was really broken until now. Though text display worked most of the time, typing text in edit fields did not work correctly at all in right-to-left mode. All in all, right-to-left-mode was not ready for any serious use.
Then some weeks ago, a user sent me a Hebrew translation for BonkEnc and that finally gave me the motivation to fix this. I implemented right-to-left script support for edit fields and fixed a number of glitches in text display. I finally got everything working yesterday. Now I just need to fix some performance issues before the next release.
Here's a screenshot showing BonkEnc in Hebrew language in right-to-left mode: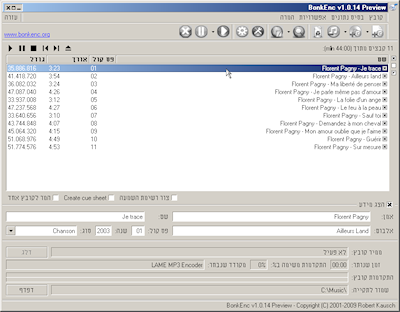 In a few weeks, BonkEnc 1.0.14 will be released with Hebrew language support. In the meantime, here is a preview release with right-to-left script support: bonkenc-1.0.14-pre2-bin.zip
If you would like to translate BonkEnc to other languages written from right to left, like Arabic, Farsi or others, you are welcome to download the preview release and send me your translations. I may also need someone to complete the Hebrew translation.